Claude Monet Is the
Father of Impressionism!
Claude Monet Scene

Claude Monet was born in Paris, France in 1840. Some of Monet's most famous works are: Impression, Sunrise (for which the movement was named), Water Lilies, Haystacks and Rouen Cathedral.
Claude Monet Church

Monet's father would have liked his son to carry on the family business, but Monet loved art and wanted to live life as an artist. Already at the age of eleven, Monet began his studies at the Le Havre school for the arts. He sold some charcoal artworks to the locals while continuing his studies. Claude Monet had school books full of caricatures of people, even his teachers. He became known for these caricatures of residents of his community. During this time a close friend and mentor, a local landscape artist, taught Monet to master oil paints and "plein air" techniques. Now Monet begins to seriously explore the natural world in his work.
Monet noticed that artists were imitating paintings and styles of famous artists. Monet always had his paints with him and when he traveled he painted the views, rather than just copying other painting styles. Living in Paris the center of the art world at this time, he met and befriended many artists, including Edouard Manet, who would become a great influence.
Claude Monet did go to Algeria with the military for two years but, after contracting typhoid, he was allowed to return to Paris, where he continued his art studies at university. In early 1860, Claude met Pierre-Auguste Renoir, Alfred Sisley, and Frederic Bazille. The painters exchanged many ideas on the new, rapid painting techniques. Pissarro is also a close friend for many years.
He met Camille Doncieux, who was often his painting subject, in the late 1860's and they had a son, Jean. Financial difficulties plagued Claude and he frequently destroyed his own paintings rather than have them seized by creditors. These financial woes may have caused him to attempt suicide, however, Camille helped him to recover and they were then married.
Claude Monet Painting

It's All About the Light!
They moved to Argenteuil with Claude continually developing his impressionistic style, beginning with Impression, Sunrise, which actually served to give the impressionist movement the name. To express the fleeting lights and hues, Monet had to employ a new painting technique using short brushstrokes filled with individual color. Claude Monet saw the world, especially nature, as splashes of constantly changing light and color. So he really was the founder of the impressionists.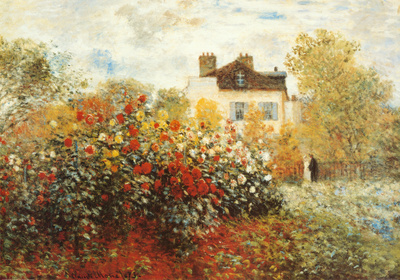 The Artist's Garden in Argenteuil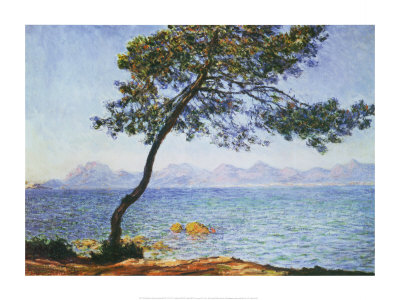 Antibes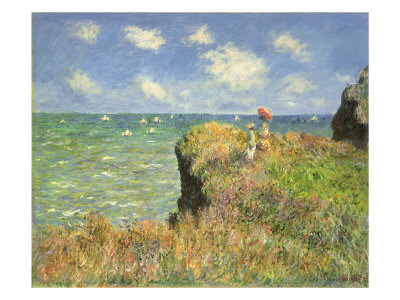 Cliff Walk at Pourville, 1882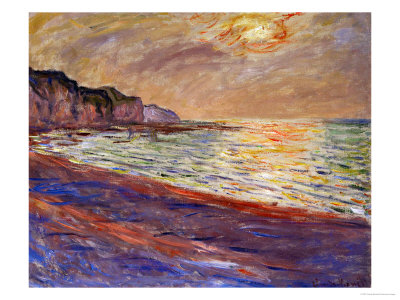 Beach at Pourville, Sunset, 1882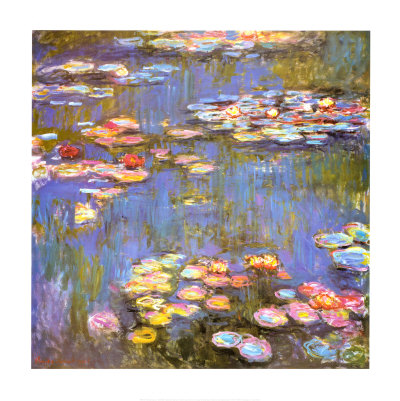 Water Lilies, 1916
After his wife Camille's death, Monet became even more determined to create masterpieces, and he started painting in groups and series.
Famous Quotes of Claude Monet
"It's on the strength of observation and reflection that one finds a way. So we must dig and delve unceasingly."
"I've 20 or so canvases well under way, stunning seascapes, figures and gardens, something of everything in fact."
"We're having marvelous weather and I wish I could send you a little of the sunshine. I am slaving away on six paintings a day. I'm giving myself a hard time over it as I haven't yet managed to capture the colour of this landscape, there are moments when I'm appalled at the colours I'm having to use, I'm afraid what I'm doing is just dreadful and yet I really am understating it; the light is simply terrifying."
"Now I really feel the landscape, I can be bold and include every tone of blue and pink: it's enchanting, it's delicious."
"I'll look in a sorry state when I get home; my clothes have faded in the sun."
"I've caught this magical landscape and it's the enchantment of it that I'm so keen to render. Of course lots of people will protest that it's quite unreal, but that's just too bad."
"I know that to paint the sea really well, you need to look at it every hour of every day in the same place so that you can understand its way in that particular spot; and that is why I am working on the same motifs over and over again, four or six times even."
"For me, a landscape does not exist in its own right, since its appearance changes at every moment; but the surrounding atmosphere brings it to life - the light and the air which vary continually. For me, it is only the surrounding atmosphere which gives subjects their true value."
"I am following Nature without being able to grasp her...I perhaps owe having become a painter to flowers."
"Everyone discusses my art and pretends to understand, as if it were necessary to understand, when it is simply necessary to love."
---
Sea and rock formation series, Giverny and Waterlilies series of paintings, Luncheon on the Grass, or Dejeuner sur l'herbe, Camille or Woman in Green, Red Boats at Argenteuil, Spring Trees by a Lake (quite modern, abstracted), the utterly beautiful serial paintings: Haystacks, and Rouen Cathedral. Each image view is in about the same position, but done in different times of daylight and atmospheric conditions. As a result, Monet's art established the development of abstract painting. He truly "enlightened" the world and made it vibrate beyond life. His pictures pick me up no matter how bad a shape I'm in.
---
More Interesting Art Prints Articles
Don Li-Leger gives homage to North American and Asian wildlife, nature, and color design with brush work.
Alice Dalton Brown creates breezy bright views to an idyllic world.
Flower Art is created by artists because flowers are beloved for beauty, healing, ceremony and romantic symbolism.
Paris art prints show the "city of lights" over the decades.
Victorian Art Prints depict classic, fairy, garden, botanical, wildlife, elegant ladies and children's book illustrations during the period.
French art prints show the freeing of styles from Realism to Abstraction.
Venus Botticelli is mythical Renaissance painting depicting divine love and spring growth of life.
Koi art prints show the symbolic carp bringing many good things to the observer.